2 tags
Elle souhaitait à la fois mourir et habiter Paris.
3 tags
3 tags
2 tags
3 tags
2 tags
Zodra José Arcadio de deur van de slaapkamer achter zich had gesloten, daverde de knal van een pistoolschot door het huis. Een straaltje bloed kwam onder de deur door, stak de kamer over, kroop de straat op, vloeide in rechte lijn over de ongelijke trottoirs, daalde treedjes af en klom tegen scheidsmuurtjes op, doorliep de gehele Straat van de Turken, sloeg de hoek om naar rechts en daarna naar...
2 tags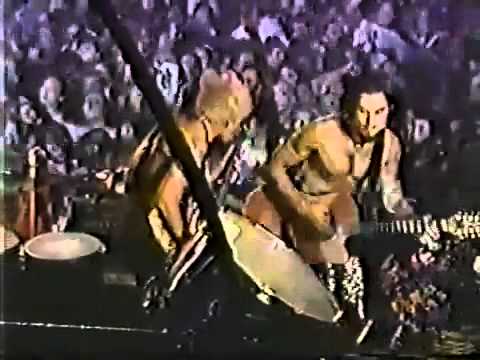 3 tags
"Zal ik weggaan? Zal ik verdrietig worden en weggaan? Zal ik het leven..."
– Toon Tellegen (via felinedeconinck)
2 tags
Some hangover
"Kevin, there's only one thing we'd like to know. We're your friends. We've been friends for years. Just one thing. Why do you drink so much?" "Hell, I don't know. I guess, mostly, I just get bored."
2 tags
2 tags
Sartre's blog
Thursday, 16 July, 1959: 7:45 P.M. When S. returned this afternoon I asked her where she had been, and she said she had been in the street. "Perhaps," I said, "that explains why you look 'rue'-ful." Her blank stare only reinforced for me the futility of existence.
2 tags
"In those brief but inevitable moments when we hate someone we love—moments which..."
– Marcel Proust, La Captive, trans. Moncrieff, Kilmartin & Enright (via proustitute)
2 tags
3 tags
3 tags
5 tags
The Man Who Knew Too Much →
Angrily, painfully, Jeffrey Wigand emerged from the sealed world of Big Tobacco to confront the nation's third-largest cigarette company, Brown & Williamson. Hailed as a hero by anti-smoking forces and vilified by the tobacco industry. In his deposition, Wigand had talked about the dangers of a number of additives in cigarettes and pipe tobacco, the addictive properties of nicotine, and the...
2 tags
i feel like i am swimming through stone so i'll hold my brain out of the water as i swim my remains back to him cause the last thing that i need is a wet brain during the hurricane so i'll rest my weary head between the eagrets beak so i can hear you sing the salmon eggs to sleep with the songs of the wild i've never sucked blood before this.
2 tags
2 tags
Fan mille affetti insieme Battaglia in me spietata. Un'alma lacerata Più della mia non v'è.
4 tags
3 tags
1 tag
Chronicle of the rain
One of her nipples was red, tepid, carnal; the other, blue, looked made for death's caress. They also brought to mind the luxuri- ous faucets of a porcelain tub. There's a story of a woman who was devoured by the moon. It's said that her cries were made of silver. Never write the words "tiger" and "dove" in the same line, for the first may devour...
"Why is even pleasure a kind of chore?"
– Patrizia Valduga, from One Hundred Quatrains, trans. Geoffrey Brock (via proustitute)
"… though small against the black, small against the formless rocks, hell must..."
– H. D., from "Eurydice" (via proustitute)
3 tags
3 tags
the letter that never came
Is there any mail for me was the question that he asked Of the postman at the closing of the day But he turned away and cried while the tears stood in his eyes As he drooped his head and slowly walked away Was it from a gray haired Mother or a Sister or a Brother He waited all these many years in vain Of't from early morning light he would wait till dark of night For the letter but...
1 tag
Inner Strength
If you can start the day without caffeine or pep pills, If you can be cheerful, ignoring aches and pains, If you can resist complaining and boring people with your troubles, If you can eat the same food everyday and be grateful for it, If you can understand when loved ones are too busy to give you time, If you can overlook when people take things out on you when, through no fault...
GEDICHT
hatsontrees: Mijn ogen zijn omfloersde tamboerijnen al roert de hand daarbuiten luide de huid hun klank in zich gekeerd blijft dof Mijn ogen zijn omfloersde tamboerijnen maar hebt daarmee geen medelijden (Paul Van Ostaijen)
2 tags
A slave in the fields one night He's running along Gets far enough to be a free man And he's feeling so strong That's how actions should be Freeing
1 tag
3 tags
Dans le vieux parc solitaire et glacé Deux formes ont tout à l'heure passé. Leurs yeux sont morts et leurs lèvres sont molles, Et l'on entend à peine leurs paroles. Dans le vieux parc solitaire et glacé Deux spectres ont évoqué le passé. - Te souvient-il de notre extase ancienne? - Pourquoi voulez-vous donc qu'il m'en souvienne? - Ton coeur bat-il toujours à mon...
1 tag
"But what is happiness except the simple harmony between a man and the life he..."
– Albert Camus
2 tags
Michele Bachmann: Dumbest things she's ever said
maheensworld:
Push Button Open Mind: Nico Dijkshoor over... →
pushbuttonopenmind: Maverick LeBronc was al 53 jaar toen hij zijn eerste plaat opnam, het in een zeer beperkte oplage verschenen meesterwerk For Jessie, waarop hij het verlies van zijn vrouw beschrijft. Het zijn de ijzingwekkend kale teksten, steeds half gesproken en gezongen die een vernietigende indruk maken op…
4 tags
Politiek statement
Aandacht. Leer uw kinderen het plezier van delen, anders worden ze later N-VA voorzitter. Ik dank u.
hiervervandaan: Geen tweederangsburger -  hij is statenloos Geen neerkijken op -  hij is onzichtbaar Asielzoeker: hoeveel wachten kan er in één woord liggen?
2 tags
The laws of gravity are very, very strict And you're just bending them for your own benefit
9 tags
On London: Rioting in Media Context
ITV Reporter: Is rioting the correct way to express your discontent?
Young Londoner: You wouldn't be talking to me now if we didn't riot, would you?
ITV Reporter: ...
Young Londoner: Two months ago we marched to Scotland Yard, more than 2,000 of us, all blacks, and it was peaceful and calm and you know what? Not a word in the press. Last night a bit of rioting and looting and look around you.
2 tags
3 tags
free your mind and your ass will follow the kingdom of heaven is within!
bloemlezing: Mijn denken dwaalt van links naar rechts elk denken is abuis Mijn hart woont op een schone plek maar ik ben zelden thuis
yulquen asked: jens?
2 tags
5 tags
"Osbourne Cox? I thought you might be worried… about the security… of..."
3 tags